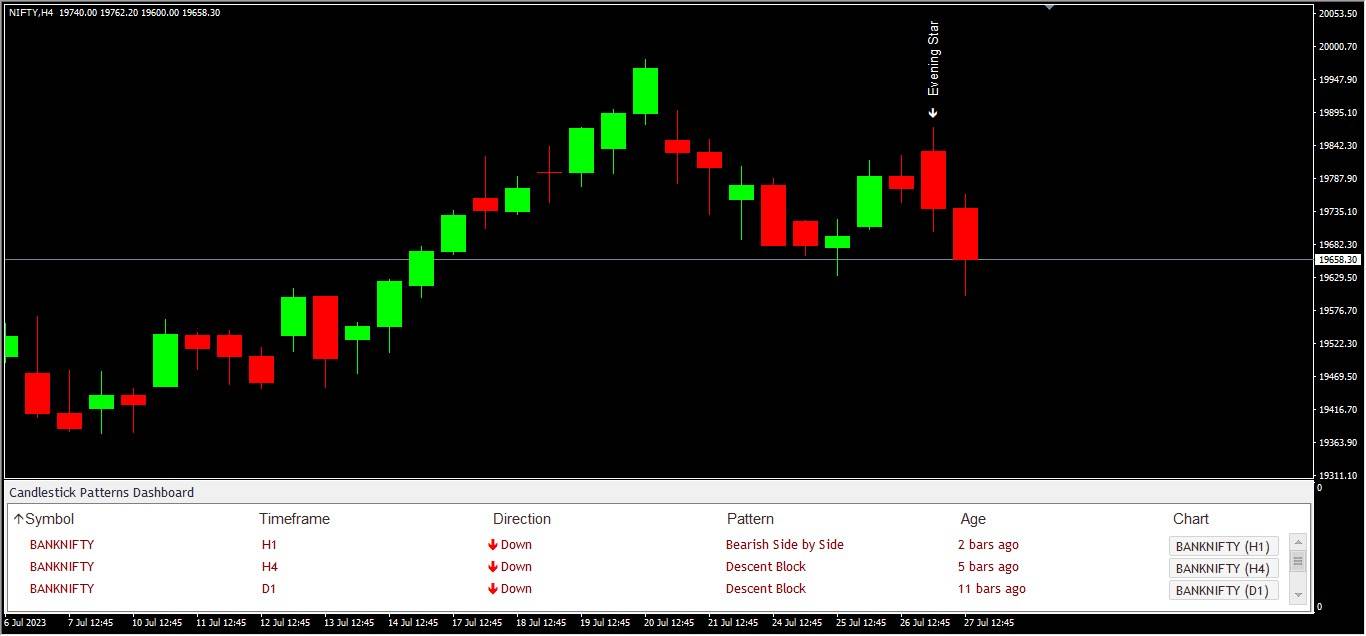 Scan multiple scripts & multiple Time frames at a time.

Strong Market Turning Points.

Easily find any candlestick pattern in one Dashboard.
Instantly know which candlestick pattern has just formed.
Easy and Attractive presentation on Charts.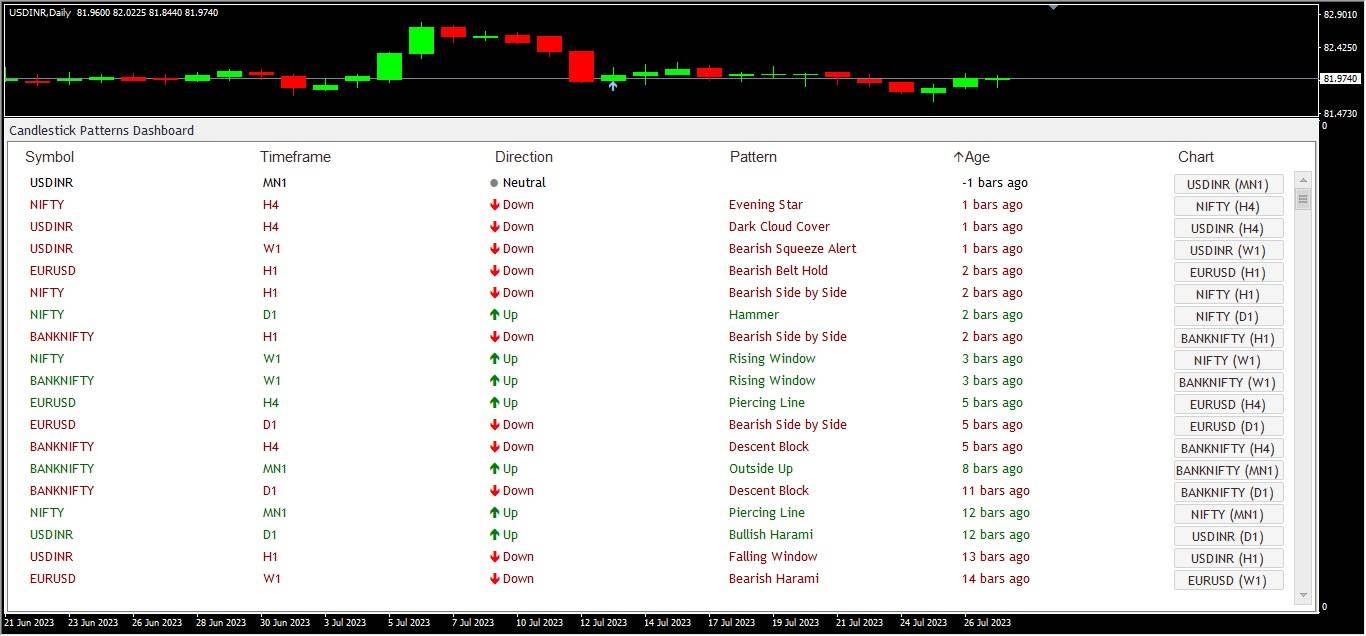 Available candle Patterns
One Candle Patterns

Hammer, Shooting Star, Marubozu, Kicker, Window, Doji, Belt Hold. 

Two Candle Patterns

Engulfing, Harami, Piercing / Dark Cloud.

Three Candle Patterns

Outside Up/Done, Inside Up/Down, Morning Star, Evening Star.
Three Soldiers, Three Cow, Advance Block, Descent Block.
Rising One/ Falling One to Rising Five/ Falling Five.
Tasuki Gap, Side by Side Gap, Deliberation, Squeeze Alert.
Break Away Two to Five, Fakey

Dashboard does all the hard work for you.
No need to monitor individual scripts.
Compatible with MCX, NSE, Options & Forex.
Suited for All Time frames. (01 min to 01 month)
Pop-up, Sound Alert, Email, and Push Notifications. on new signals.
Chart will open in a Single Click.
Sort the Dashboard like – based on Symbol, Timeframe, Direction, or Age.
Choose Stocks, Commodities and Currency Pairs.

Short Scripts on the bases of  Symbols, Timeframe, Age of Signal, Direction, Pattern, etc.

Enable or Disable Candle Pattern like Doji, Hammer, etc.

Enable or Disable Timeframe as per choice.

Enable or Disable Alerts.

Easily can change Parameters.

Easily can change the Colors of the Indicator.
Candlestick Pattern Scanner
Validity: Life Time
Support: 01 Year
Platform: Meta Trader 4 (MT4)
————
One Dashboard Scanner: 6,000/-
Three Dashboard Scanner: 12,000/-
All Dashboard Scanner: 18,000/-
*Software for 01 system only. In case of Re-installation ₹1000 applicable as Re-installation.